Payroll Tax Problems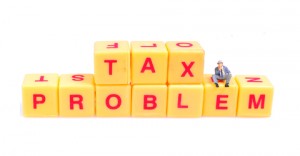 In their attempt to collect delinquent payroll taxes, the IRS can take quite an aggressive approach. Nearly all the amounts due on payroll tax returns are trust fund taxes, meaning they were collected from your employees. The penalties assessed on unpaid payroll tax deposits or unfiled payroll tax returns can be very steep for this reason. Because of these penalties, it does not take long for these amounts to increase to astronomical numbers.
When such a situation arises, we believe it is critical for you to be represented by a professional. During an encounter with the IRS, they will ask you a series of questions. How the first five questions are answered are critical in determining whether you stay in business, or have your business seized and liquidated by them. There can also be a penalty assessed against the person responsible for paying the taxes equal to the amount of unpaid taxes. It is our goal to work with you and provide a plan to pay these taxes, as well as negotiate a reduction of penalties, avoid bank account levies, and the seizure of assets.
---

"Contacted Charles for an IRS issue we had about a 941 payment problem. He worked hard to minimize the damage as it was an error on their part. After that he, and his firm, handled all of our business's accounting needs for 5+ years. He setup and worked with our QuickBooks®, handled our payroll needs, bank and tax payments, and was nothing but professional. I would highly recommend him for any business or personal accounting needs you may have." -John Berger, Impact Collision Center Inc.

"On behalf of our company, Oasis Illusions, I thought it time to take this opportunity to thank you for several years of service. You and your experienced staff have served us well. You have aptly handled all our payroll needs, and even sent friendly reminders when I've been late providing you my payroll information. The information you provide each payroll, each quarter, and annually allow me to accurately track our payroll expenses, while satisfying the various agencies' deposit requirements. As our company grew from having two on payroll to eight your handling of all payroll related matters allowed us to concentrate on our main business needs.

You and your staff went above and beyond my expectations in dealing with the Federal IRS and state agencies starting 2 years ago. Out of the blue the federal IRS changed my employer ID number in the middle of the year. This in turn caused a myriad of problems to various reporting agencies. Without your steadfastness and expertise I would have been helpless to answer all the computer generated requests, threats, and plain ole non-sense it caused. But, your office handled each notice with professionalism toward these agencies and myself. For all these reasons, and probably more, I am grateful for your services." -Bob Wear, President and Owner, Oasis Illusions, LLC

---
Complimentary Consultation
Our trained CPAs and certified tax resolution specialists work diligently to find the best outcome we can on your tax issues. Call us at 856-256-1490 or email ckm@montecinocpa.com to set up your no-cost, no-obligation, no-pressure complimentary consultation today.